Luke Skywalker Loves Sand Unlike a Certain Star Wars Character
While the Star Wars prequels are getting more love these days, no one can deny that the entire trilogy is filled with meme-worthy material and it's up to you to decide if that's a good or bad thing. Though most of the memes come from Revenge of the Sith, one of the most memorable ones was birthed from Attack of the Clones when Anakin Skywalker decided to tell Padme how much he hates the sand.
I don't even have to say it. You Star Wars fans know it line-for-line and that is just fine.
Marvel's Star Wars #5 has decided to make fun of that line by revealing that Luke Skywalker loves the sand, unlike his father. It's a pretty funny bit as Luke and R2-D2 arrive in a sandy area and Luke tells his droid companion how much he loves the sand. This isn't something prequel fans will be losing sleep over but you can't deny how amusing the line is.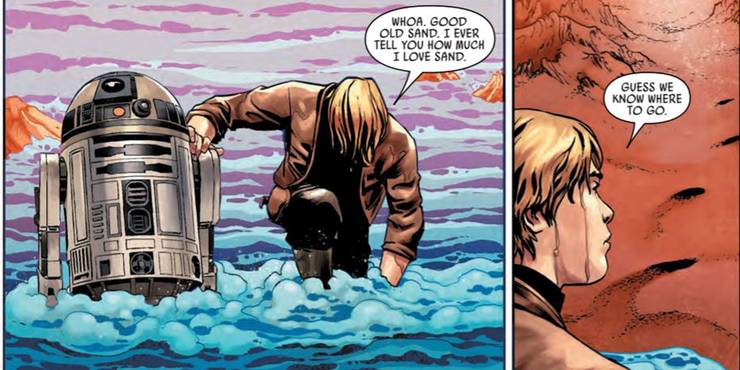 Charles Soule, who has written a number of Star Wars comics like Poe Dameron, Darth Vader, and, well, Star Wars, is the mastermind behind this line and we all thank him for it. Tie-in media like this is at its best when they can poke fun at their lore while still opening it up to new stories so fans can appreciate this quite a bit.
Now to give Anakin Skywalker and George Lucas' original line from Attack of the Clones some credit, the context of this scene was supposed to be about how rough the future Darth Vader's life was. Anakin grew up poor and didn't have a lot of happy moments prior to becoming a Jedi but they definitely could have worded it better (Hayden Christensen could have performed it better too but George certainly should have helped him more).
Star Wars #5 is available now. Star Wars: Episode II - Attack of the Clones is now available on Blu-Ray, DVD, and Disney+.
Via ScreenRant
Read: Video of Ewok Actor Dropping F-Bomb in Star Wars Universe Goes Viral
What Others Are Reading