9 Anime Like To Your Eternity You Should Start Watching
To Your Eternity is one of the most unique shonen anime of the Spring 2021 anime season. Based on a manga by Yoshitoki Ooima the 20-episode show has moved many viewers. Fushi's journey to learn about the world and acquire feelings and identity is truly magical and heart-breaking. Naturally, fans will be seeking similar anime to watch. Below, we've gathered a list of anime with similar plotlines, concepts, or aesthetics that you should start watching if you're enjoying To Your Eternity.
1. Dororo (2019)
Tezuka Productions and MAPPA's 2019 version of Dororo adapts Osamu Tezuka's 1967-8 manga and its 1969 anime adaptation. Both were fair for their day and largely shape shonen manga and anime, but they missed some opportunities to explore the main character's relationship with the human world which he's only starting to understand.
Dororo follows Hyakkimaru, a boy who was born without eyes, ears, limbs, or even skin due to his father's pact with twelve demons. Accompanied by a young thief, Dororo, Hyakkimaru fights the demons in prosthetic limbs to reclaim his body parts.
The premise might not seem like To Your Eternity at first glance, but the 2019 version of Dororo is very nuanced. Unlike the previous media associated with the story, the MAPPA show tackles the main character's disabilities. He starts without any senses and therefore without a conventional understanding of the world, and regaining each sense is a shock to him. The way Dororo teaches him to speak, interact with others, and understand human concepts is a joy to watch and it will remind you of the way Fushi learns about humanity through various interactions.
2. Mushishi (2005)
Mushishi by Studio Artland is quite similar to To Your Eternity in both aesthetics and concepts. "Mushi" is a little-known, very basic form of life – and remember that Fushi from To Your Eternity started as an orb. The main character, Ginko, is a Mushi-shi, a person who studies Mushi and tries to understand its effects on humans.
Ginko is a wanderer, like Fushi. In his travels, he encounters several people, each with their own problems, and attempts to help them, often with heart-warming results. Both anime have a calm, relaxing atmosphere and each episode will leave you feeling inner peace.
3. A Silent Voice (2016)
The Kyoto animation shows A Silent Voice isn't a fantasy work but it could not possibly be missing from this list as it is a very moving work, also based on a manga by Yoshitoki Ooima. The show follows a boy who once bullied his deaf classmate, resulting in her changing school. From there on, Shouya himself becomes the target of his classmates' bullying. Growing up, he comes to regret his actions and hopes to make it up to the girl he once bullied.
A slice of life school anime and a supernatural shonen work don't seem to have a lot in common, but both feature significant emotional journeys that result in character growth, and since they're by the same author, you're likely to notice a parallel or two.
4. Sunday Without God (2013)
Sunday Without God by studio Madhouse is a fantasy anime that – much like To Your Eternity – explores the human condition and what it means to be alive or to die. In a world abandoned by God, where no children have been born in fifteen years and the dead rise again unless properly buried, young Ai is a Gravekeeper, one of the only people who can give eternal peace to the ones around her.
Eager to explore her gift and learn about the world, Ai finds some unlikely friends and embarks on a road trip with them. Along the way, they witness several tragedies in which the boundaries between life and death are blurred.
The framing of the story as a journey, as well as the exploration of the concepts of life and death – and the occasional tearjerkers – means that fans of To Your Eternity are likely to enjoy Sunday Without God as well.
5. Maquia: When the Promised Flower Blooms (2018)
The only movie on this list, Maquia by studio P.A. Works will be enjoyed by To Your Eternity fans because, like the beloved supernatural anime, it tackles the tragedy of a long-lived being coming to terms with the much shorter lifespan of a human they love.
Maquia is a lorph, a species that lives much longer than humans and rarely participates in their concerns. But when Maquia's peaceful life is changed forever by war and tragedy, she finds herself in charge of a human baby whom she decides to raise despite their different lifespans.
By the descriptions allow, it's easy to tell that both anime is beautifully sad, exploring an interesting character dynamic that can only be found in fantasy but is still extremely powerful to watch.
6.Golden Kamuy (2018)
Golden Kamuy by Studio Geno is a work you might like if you are enjoying To Your Eternity, even though the former isn't a fantasy work. The main character is not literally immortal, but he's nevertheless known as "Sugimoto the Immortal" due to his impossible acts in battle. Following the end of the war, Sugimoto and a young Ainu girl embark on a journey to find gold and fulfill the dying wish of Sugimoto's faller friend.
Like To Your Eternity, Golden Kamuy has a historical setting and both are adventurous, fun works about the main character whose deeds inspire awe.
7.Wolf's Rain (2003)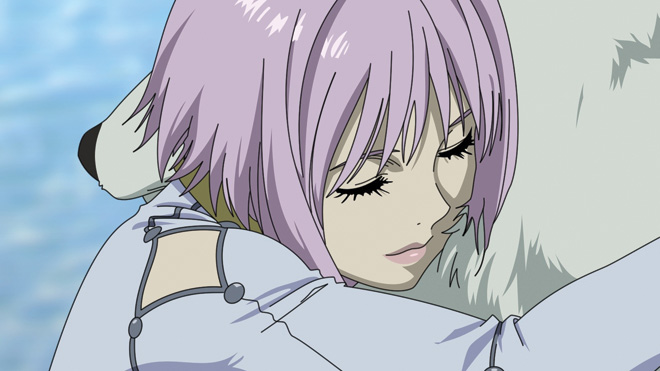 In a dystopian landscape that feels both old and futuristic, wolves are thought to be the only ones who can unlock paradise. To survive, they have to hide in plain sight, taking a human form, until they can begin their journey.
The Studio Bones anime isn't the most similar to To Your Eternity in this list, but both feature several interesting common concepts; wolf and human relationships, a tragic supernatural journey, and a vague goal of a spiritual nature, which you nevertheless want the main characters to achieve.
8. Wandering Witch: The Journey of Elaina (2020)
It seems that the idea of an endless journey is a common motif in many fantasy anime. In the recent C2C anime, Elaina, a girl who has always been fascinated by the stories she likes to read, embarks on a journey to become a witch. On the way, she meets many different creatures and learns their stories.
This might sound like a conventional fantasy work compared to the more original To Your Eternity, but if Fushi's journey to acquire feelings and help humanity with his ever-evolving powers resonates with you, Wandering Witch deserves a chance.
9. Violet Evergarden (2018)
The 2018 Kyoto Animation show is likely one of the most moving anime of all time, so it's a fitting suggestion for those enjoying To Your Eternity – arguably one of the most moving anime of the season, to say the least. Unlike Fushi, Violet Evergarden is human and there's nothing supernatural about her. However, if you are enjoying Fushi's journey, his increased awareness, and his understanding of emotions, Violet's story is for you.
Violet Evergarden used to be a child soldier, brought up to think of herself as a tool. When the war ends for good, Violet hardly knows how to exist in a peaceful world; the war has left her mutilated, bereaved of the only person who showed her kindness, and clueless when it comes to human emotion. The anime is her journey to learn about feelings, particularly love, learn how to make friends, and help others.
In that, her story is similar to Fushi's who also meets a lot of different people as episodes go by, learns from them, and occasionally helps them in their struggles.
Related: 10 Anime Like Fruits Basket You Should Start Watching