Arrow "S4E11 A.W.O.L." - Review: A.W.E.S.O.M.E.
I genuinely missed it the first time but ever since the Lost Souls episode is back in November, John Diggle has finally been christened with a codename/persona within Team Arrow, "Spartan". It came purely out identity protecting necessity while Curtis Holt was being a guest member of the team to break out the captured Ray Palmer, but it crops up again in this episode like it's now permanent identifier. It has nothing to do with the existing DC character of that name (the super strong android team leader of WILDC.A.T.S. in the Wildstorm universe) but rather his vision slits on his new helmet resembling those of Leonidas and his muscular boys. Felicity has very fairly joked on a few previous occasions that she should have a codename. Now, after a good 3 years on the team, she finally gets one!
AWOL – While Felicity comes to terms with being wheelchair-bound, an organization known as Shadowspire is making trouble in Star City, a group that Andy Diggle has some firsthand experience with.
In many ways, the Felicity story of this episode is a sequel to last season's "The Secret Origins of Felicity Smaok" as emo college hacker Felicity reappears in her medication induced hallucinations. Fun fact: that episode was scheduled to be called, "Oracle" but those involved were forced to change it as some else (as yet unknown) already has the Oracle character marked for an appearance. For non-comics readers, Oracle was Bat Girl/Barbara Gordon's new tech/information guru based persona after becoming paralysed by The Joker in Alan Moore's The Killing Joke. This episode makes it abundantly clear that Arrow really wanted to make Felicity into Oracle, even if just for the rest of the season but couldn't; Oliver even cheekily spells it out when christening her Overwatch, "I was going to go with Oracle but it's taken". So now, what we have is Oracle is all but name (although personally, I quite enjoyed "Hot Wheels"), and that's a perfect fit for Felicity's character but more importantly, it's not just dropped in for the sake of it but used in her battle of acceptance over probably being permanently handicapped. This is symbolized brilliantly as she hallucinates her old hacker self and the pair start bickering about who she used to be, how much she's changed and what it has finally cost her. This could very easily have been strung out for weeks and though we may still get moments where she struggles, it is fantastic to see that in merely half an episode, she manages to pick herself up again by the same examinations of change. It's an apt metaphor for going through a big transition of focusing on the positives rather than the negatives. Yes, going blonde and becoming a crime fighter may have taken her ability to walk but at the same time it brought her together with the team and together they achieved so much and saved so many lives. So even though her transition into "Overwatch" is just as big a change in her life, that doesn't mean that good things can't come from it. Emily Bett Rickards is outstanding through the whole episode in both weakness and strength and there's always with a hint of humour to it.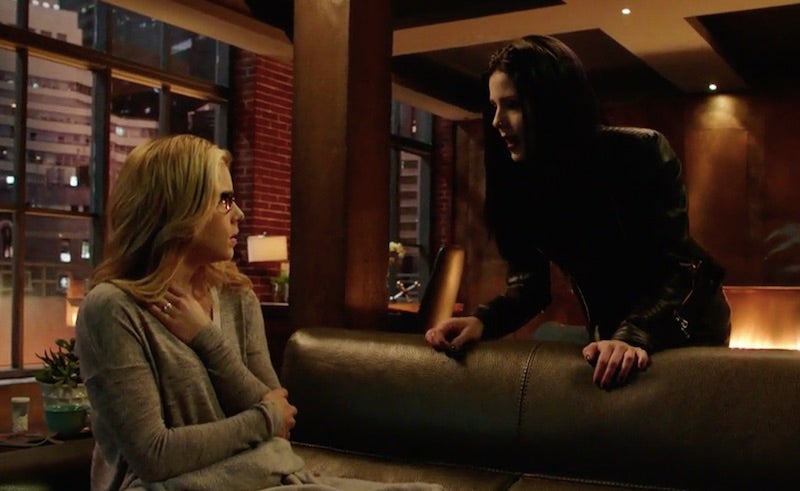 This is also a great episode for The Diggle clan. Before we even start on the boys, it's so great to see Lyla involved so heavily. It feels right to feature her as we return to ARGUS, but certain developments imply she may now be taking on a much bigger role, even if it's not immediately confirmed. Then continuing from the progress we saw between John and Andy last week, this episode takes their relationship even further with Andy volunteering to help out of moral obligation rather having John beat it out of him. Writers Brian Ford Sullivan & Emilio Ortega Aldrich do a great job of not only making Andy's transition into a guest Team Arrow member but drip feeding us little moments of making him more likeable than the harsh scowl we've seen in many episodes. Like his nigh on orgasmic facial expressions when John brings him a Big Belly Burger or the flashback moments of the pair in army action together. Andy's transition also stays plot-relevant by being their best source on the Shadowspire organization (who really need some head gear that doesn't look like gimp masks?) understanding their routines and mindset. Then in the climactic showdown, we get to see both brothers in action together, in one of many high quality fight sequences throughout the episode, implying them as an effective unit if Andy if were given a shot on Team Arrow.... or would it? It flies a little under the radar but the episode gives us one other crucial piece of information about Andy, that he is a very good liar and capable of completely fooling John if he has to. It's just enough to make us wander if there's another big twist coming in his story this season. We've seen connections made between Shadowspire, Reiter from the flashbacks (whose comic character is a Shadowspire leader) and Andy. Andy even says that Shadowspire is all about misdirection. Could Andy's entire process of joining HIVE, getting rescued by Team Arrow and gaining John's trust all be part of a seriously long con for something? Maybe even Reiter getting back at Oliver for some, as yet unseen, flashback events?
AWOL is a good episode in that it does not go absent without leave from the plot. It successfully deals with the aftermath of last episode's Felicity developments while moving many other things forward. It is slightly marred by what screams of being a film universe required character write off but apart from that it's a fun multi-storied episode with a good action base. Like its Canary trilogy break up, this time last season, the show is using Damien Darhk's gifted weeks of ceasefire really well to change things up without feeling like its neglecting its bigger picture. Next week, we're even getting the return of Nyssa al Ghul, a guest comeback by Colton Hayes/Roy Harper and a villain with a very interesting family connection. Roll on next Wednesday!
Also, just as I finished writing this, Stephen Amell went live on Facebook to announce he would be appearing on Legends of Tomorrow episode 6, Star City 2146, with one arm, "the goatee" and we would be seeing Connor Hawke...... please file that news under "A" for Awesome!