Captain America Just Introduced a New Iron Patriot
Iron Patriot has been a number of characters in recent years. Starting out as Norman Osborn, then becoming a hero when James Rhodes took up the mantle. When Rhodes became War Machine again, U.S. Avenger Toni Ho suited up as the hero for a time. Captain America #22 has decided to introduce the fourth character to become Iron Patriot, with Cap's girlfriend Sharon Carter now wearing the armor.
Carter debuted as Iron Patriot in Captain America #22 when it seemed like Steve Rogers was going to get killed by Selene. She, along with Black Panther's Shuri, arrives just in time to save the day and we're all happy to see Sharon kick ass in the armor. If you're wondering how she got her hands on it, Sharon has been working with Toni in the Daughters of Liberty group so this actually makes sense.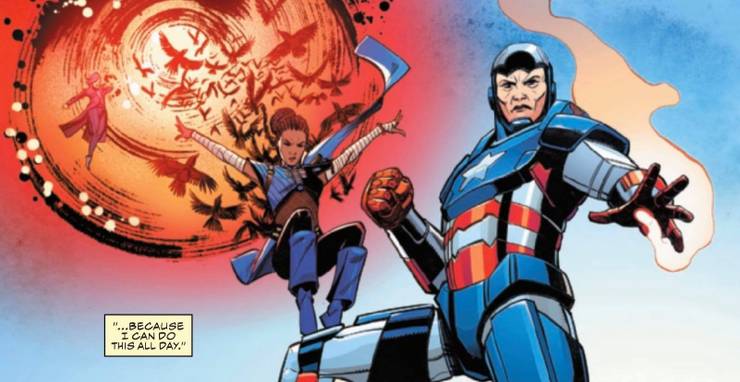 Right now, we aren't sure if this is going to be Sharon's permanent superhero identity or if this will be a one-off arc for her. She did get a nice Alex Ross cover so this might be more important than we think but it is nice to see her kick some ass. Admittedly, Sharon has been a capable fighter for quite some time but seeing her beat up bad guys in the Iron Patriot armor should be awesome.
Anyone interested in seeing Sharon as the Iron Patriot should pick up Captain America #22 right now.
Via CBR
Read: The Eternals Writer Reveals How the Story Affects the Marvel Universe
What Others Are Reading