Shadows House Episode 10 RELEASE DATE and TIME, Countdown
CloverWorks
Shadows House was back this weekend with its tenth episode and the debut arc keeps going on. It's absolutely aesthetic and quite clever to watch, though it might be best to watch the debut episodes all together after the anime finishes airing, as it all seems to work better as a film rather than a weekly medium. Whether or not you loved the last few episodes, our characters are finally close to the finish line. But at what cost?
To keep things creepy and spicy, Episode 9 chose to reveal the creepy nature of the Shadow and Doll relationship earlier than the ongoing manga. Truth be told, it wasn't impossible to figure out, but it might still leave you feeling unsettled. From what we've seen so far, Kate and Emilyco are too fond of each other to let this fate befall them, so we expect them to fight back, which can only mean one thing: 13 episodes now seem too few to adapt everything, so Season 2 likely on the cards.
Are you also holding your breath to see whether Emilyco, Kate, Rum, Shirley, and the others will make it to the end? Then keep reading! Below you will find our handy guide with all you need to know about Shadows House Episode 10 including the episode's release date, airing time, and more so that you can be the first to catch up!
Shadows House Episode 9 Recap
Below, you'll find a recap of Shadows House Episode 9 to refresh your memory before the newest episode. To avoid major spoilers, proceed with caution if you haven't watched it yet!
Episode 9 reveals that Ricky, while annoying and selfish, isn't as bad as the other dolls make him out to be; he didn't kill or otherwise sabotage Lou. Rather, she chose to give him her sheers because she enjoyed her time with him. Lou and Louise make it to the finish line first, while Shaun and John manage to get the latter's clothes cleaned up and move on.
Rum manages to reunite with Shirley and starts working to free her, while Ricky finally manages to find his master and free him. Emilyco is the last one to reunite with Kate, but she is not going to give up. Although Kate's cage is worse that than of the other masters, designed for Emilyco to fail, she still manages to save the day with some help. When Patrick and Ricky find the pair struggling, Patrick begs Ricky to give Emilyco the sheers, to make up for her earlier kindness to him.
With Kate finally freed, our main pair might stand a chance... but a chance of what? As we find out, the "faces" or "living dolls" are doomed to fade and become one with the Shadow masters, essentially dying. Kate would never want that, but how can they escape this fate?
Shadows House Episode 10 Release Date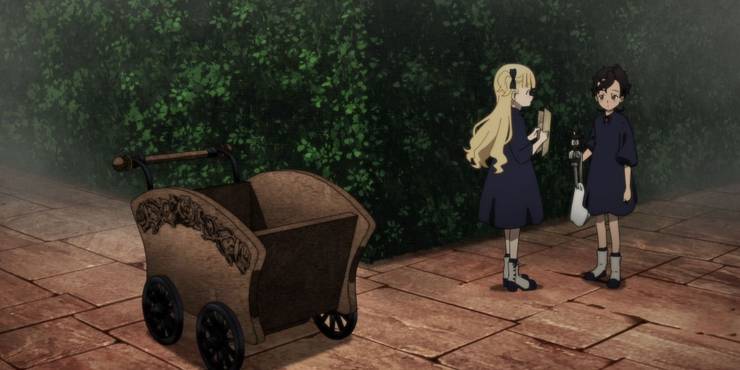 Shadows House Episode 10 titled "The Final Pair" is going to be released on the 12th or 13th of June, depending on your timezone. Premium Funimations users will be able to watch the newest episode of Shadows House simulcast the moment it is released. Who do you think is going to be the titular final pair?
Non-premium users will have to wait for Episode 10 until the 20th of June but Episode 9 will be available to everyone by June 13, just bear in mind that there will be ads.
Shadows House Episode 10 Release Time

We're expecting Shadows House Episode 10 to air at around 00.30 AM JST on the 13th of June. If this Sunday timeline remains correct, Episode 10 is going to be released in different time zones at or around the following times:
Pacific Time: 8:30 AM (June 12)

Central Time: 10:30 AM (June 12)

Eastern Time: 11:30 AM (June 12)

British Time: 4:30 PM (June 12)
Shadows House Episode 10 Where to Watch
You can watch Shadows House online with English subs on Funimation. Subscribed Funimation users will be able to watch episodes as they come out, while non-premium users will be able to access them a week later. We don't have news about the dub yet, but this is Funimation is famous for its dubs, so this could change at any point.
Shadows House Episode 10 COUNTDOWN