The Ridiculous Trailer For Gods of Egypt Trailer is Here!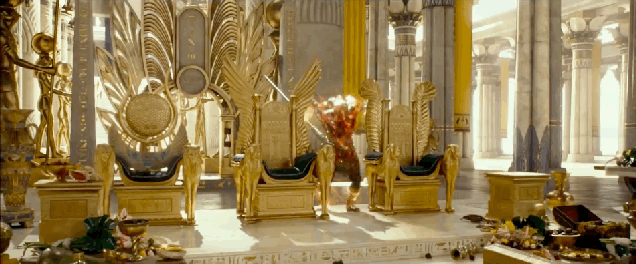 The new trailer for Alex Proyas' Gods of Egypt is here, and it raises a lot of questions about the film such as how come there's a lot of White people in Ancient Egypt? This CGI-heavy film looks as ridiculous as the cheap fantasy movies like Clash of the Titans and the 2011 Conan the Barbarian. Even the fire-breathing snakes are laughable.
The cast includes Gerard Butler as Set, the god of the desert; Nikolaj Coster-Waldau as Horus, the god of the sky; Brenton Thwaites as Bek, the thief of legend; Chadwick Boseman as Thoth, the god of Wisdom; Elodie Yung as Hathor, the goddess of love; and Abby Lee as Zaya, the beauty of the Nile. Watch the trailer below:
Magic, monsters, gods and madness reign throughout the palaces and pyramids of the Nile River Valley in this action-adventure inspired by the classic mythology of Egypt. With the survival of mankind hanging in the balance, an unexpected hero takes a thrilling journey to save the world and rescue his true love. Set (Gerard Butler), the merciless god of darkness, has usurped Egypt's throne, plunging the once peaceful and prosperous empire into chaos and conflict. With only a handful of heroic rebels opposing Set's savage rule, Bek (Brenton Thwaites), a bold and defiant mortal, enlists the aid of powerful god Horus (Nikolaj Coster-Waldau) in an unlikely alliance against the evil overlord. As their breathtaking battle against Set and his henchmen take them into the afterlife and across the heavens, both god and mortal must pass tests of courage and sacrifice if they hope to prevail in the spectacular final confrontation.
Gods of Egypt also stars Georfrey Rush, Courtney Eaton, and Rufus Sewell. The film will be released in theaters on Feb. 26, 2016.
What Others Are Reading