Stranger Things 2 "Chapters 1-3" - Review: Hawkins Returns with Spooky Treats
With the increase in binge-dump delivery of TV shows, it's getting harder actually to gauge their cultural impact. Sometimes a show can be everything everywhere for a few weeks then nobody's talking about it anymore. Is that because we've all moved on or because in hindsight, the show wasn't as great as our hype blinded eyes led us to believe? Rather than the slow build towards appreciation for a weekly show, we're encouraged to make such snap judgemental assessments. That's one of the reasons that I think Strangers Things has stood out as such an outstanding show from its first season; since its 2016 release, I genuinely can't recall a time when people weren't talking about it. It was no flash in the pan but an eternal flame that more and more people came to embrace. I have friends that only gave it a try earlier this year with the hype train long departed and were still blown away by it. That's why I'm not really worried about the massive hype surrounding the arrival of this second season; because we know the show doesn't need it. It's no trick; this Halloween will be a treat as we're welcomed back to Hawkins, Indiana. Here's my take on the first 3 episodes.
Chapter One: MADMAX – It's a year later and Halloween 1984 in Hawkins, Indiana. Everything seems back to normal but Will Byers is getting strange visions of The Upside Down and something odd is happening at the pumpkin patch.
First of all. accept that you're going to lose it the second that epic title theme kicks in so just go with it and stare at someone till your nose bleeds if they try to skip the intro. Like any returning season, this first episode/chapter has a lot of character re-establishment across its run time. In some places, this is a little forced but in others, it's brilliantly done. The best by far is with the central young actor cast and their families as they head to the arcade. There are some superb little details like showing Mike sitting under El's old basement blanket fort to tell us he still misses her. Or that Will's mom is understandably more paranoid and protective of him following the previous events. It seamlessly weaves acknowledgment of season one's events into this narrative but most importantly, immediately the same fun interactions between Mike, Will, Lucas and Dustin that won us over last time. Even with a year passing on screen, it feels like we've never left them. Although in terms of consequences the catch up with Barb's parents takes the cake; while others have been able to move on, their wounds are still open. It's also highlights the emotional cost of secrecy. As people like Nancy want to tell them the truth about Barb's fate but are unable to do so. Speaking of Nancy, there's a similarly good recap at the high school with Steve/Nancy/Jonathan love triangle still going despite things going well between Nancy and Steve. Then we have the shakeup arrival of the new brother sister combo of the elder Billy (Darce Montgomery – Power Rangers new Jason/Red Ranger) and younger Maxine aka Max. Billy's quickly shown as a new heartthrob to likely make it a love quadrilateral, while the gaming and skateboarding Max looks like she'll be joining the D&D crew on their adventures.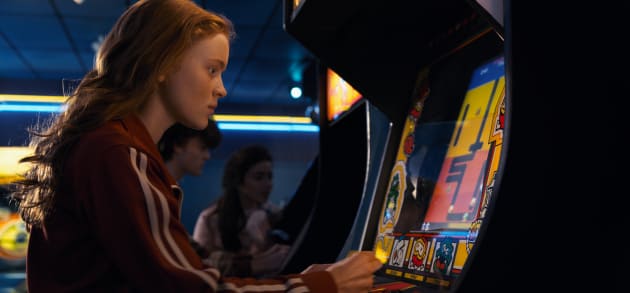 The episode offers some good teases into the season's story while still preserving its mystery credentials. It already looks like bits of the upside down are bleeding into this reality with some implications that Will is connected. This would support Will's final season one's sink vomit scene and the idea that he brought part of the Upside-Down back with him. We also see continued cooperation with Hawkins Labs as Will appears to be undergoing regular tests/observations with the consent of his mother and Chief Hopper. Though speaking of the labs, their best tease comes from the opening minutes in Pittsburgh, opening up all sorts of possibilities for the show to explore. Overall, it's a case of being shown events without yet understanding the why or how which is exactly what the show should be doing at this stage.
The show still looks and sounds amazing. Dustin had a single growl and The Goonies inspiration even comes full circle with Sean "Mikey" Astin making a supporting appearance. It's a damn fine start. Now let's see how stranger things will get.
Chapter 2: Trick or Treat, Freak – It's Halloween and boys go trick-or-treating. Mike isn't thrilled about Max coming along while Will has his most vivid episode yet. Nancy, Steve and Jonathan try to be normal teenagers at high school party but that doesn't go well.
So this episode deals with the (long-confirmed and non-spoilery) return of El. There's nice cyclical nature to her story as we follow her immediately from her disappearance. She's similarly lost and alone before eventually finding unexpected help. Millie Bobby Brown is excellent in conveying her frustration, having found happiness with Will and the gang only to have it taken away again. El's guardian in her new secret home is the more surprising affair (that is spoilery so please forgive the vagueness) but actually builds in really well to the said character's back story. That brings us the present day of El understanding the need to stay hidden from the Hawkins Lab agents but growing increasingly longing to see more of the outside world. This is all good for now as long as it isn't stretched out too long into the season before the eventual reunion with the boys.
When the first teaser showed me the boys in Ghostbusters costumes, I was officially sold on season 2 and the results in this episode do not disappoint. As well as being a great piece of nostalgia and the source of fun gags, it also forms an interesting metaphor for the boys starting to grow up. This links in to other more, "coming-of-age" themes like Lucas and Dustin's infatuation with Max.... which I'm all in favour of. Max continues to impress me as a new character. In fact, Lucas and Dustin's clueless approach on her is one of the funniest scenes the show has produced to date. Max's movement towards the group and the others liking her even circles back nicely to Mike's feelings; in a way he feels that by accepting Max as their new cool girl friend they're forgetting about El which Mike refuses to do. The same can't be said for Billy. While he definitely seems like the AAA rated doucheback he's meant to be as a character, he feels really shallow in comparison to Steve's jerk/bully act of season one, something that was praised for not being as obvious and simple-minded as we're now getting from Billy. So either the show is setting up one hell of a rope-a-geek or it's failed to learn from its own successes. As for Season 2's Steve, I like what they're doing with him. He's not perfect but has understandably positive motives. I'm also enjoying the continued exploration of Nancy's Barb guilt which adds more depth to the typical high school party scene (which is an Easter Egg basket 80's pop culture costumes).
I really like the continued building tease of the rotting and diseased crops. The strong and detailed visuals of black decomposing vegetation clearly evoke images of The Upside Down and we don't need to be told that its spreading is a bad thing. The same praise goes towards Will's episodes/visions. I love the imagery of the eerie glowing streetlights, the smash contrast of streets filled with trick-or-treating kids to dim chilling silence and a better look at what I guess (from last season's D&D tease) we're calling the Thessal Hydra? Let's go with that moniker for now.
My only niggling concern with the season so far is a fair and common problem. That is finding meaningful things to do for all characters from a prior story. For the most part, the show is doing this really well but a notable shortcoming is Winona Ryder's Joyce Byers. Joyce's story and emotional journey were a huge part of the first season thanks to a stunning performance by Ryder but so far, she hasn't been given much to do other than be a bit worried about Will. Jonathan is also lacking some direction. While he's involved in the romantic story with Nancy, he doesn't feel very connected. Hopefully, we'll start to see these two given more to do over the next couple of episodes.
Chapter 3: The Pollywog – After finding a small strange creature in his garbage, Dustin thingk he's discovered a new species but Will's concerned it's something from The Upside Down. After falling out with Steve, Nancy confides in Jonathan while The Chief makes Hawkins Lab investigate the dying crops.
Right episode, right time; this is a real catalyst, story-deepening episode right when the season needed it to move from suspicious beginnings right into the thick of weird happenings. By having Dustin's new creature buddy at the heart of this, we get a lot of fun Gremlins and Faculty references. It gives Dustin plenty of great comedy too as he goes full on maternal ("I need my paddles!"). The creature's rather quick growth and evolution implies it will soon be a much bigger problem. Could this even grow into the Thessal Hydra? This also develops Mike's animosity towards Max as she's further involved. However, I really liked the way episode confronted this towards the end by letting Mike open up a little in conjunction with El's venturing back into the world. We definitely don't want this becoming a Max/Mike/El love triangle because but it's okay to create a bit of conflict on the road towards united them as a sextet.
I'm not as sold on the continued El flashbacks showing her journey between the seasons because they're starting to feel repetitive (....he says while repeating many things in this article). It feels like everything has already been well-established in terms of El finding her new home and now wanting to leave it. So we'd rather spend more time with El in the present. The character interactions of the flashbacks are good but they just feel surplus to requirements. However, this episode does take the right step forward of having her venture back out into the world to try and find Mike, setting us up for the big moment of their eventual reunion. Elsewhere on the downside, Billy is still a waste of space and now he's dragging Steve down with him into an alpha male cock fight.
Ask and you shall receive, it seems because Joyce has found her calling within the season. Her transition from mild concern to full on crazy after a shock discovery is exactly what we want from her character and gives her something to investigate alongside the boys. We know that Joyce is a believer having stamped her passport on The Upside Down so now this time, her journey of discovery is trying to prevent something to Will rather than fixing things afterwards. I particularly like the use of video camera static to show something on the edge of visibility. Jonathan too has become Nancy's wingman for operation spill-the-Barb beans which puts the ever attentive Hawkins Labs guys against them. This links in well to the Game of Thrones-worthy fragile alliance between the Labs and The Chief (and various other people keeping quiet about the prior events). We see things start to strain as Chief has to heavily persuade the lab boys into investigation which sets the groundwork nicely for the Labs to become antagonists again.
It climaxes with a, "holy s***" ending on par with The Body that will pull you down that curiosity waterfall faster than you can paddle. Any fans with any doubts about the season so far will see them disappear like the magic as the season moves into its 2nd act.
What Others Are Reading