Check Out the 4K Ultra HD Blu-ray Cover of Spider-Man: Far From Home
Spider-Man: Far From Home ended up being more entertaining than most people expected, so it's natural for fans to be excited for the Blu-Ray. Fans did see it a number of times, the fact that the movie made $1 billion in the box office is proof of that, so watching it in our homes is going to be a treat, especially with the number of extras that will be a part of it.
While a release date hasn't been revealed, Best Buy did give us our first look at the cover, which has special artwork. We get to see Spider-Man, Mysterio, Nick Fury, MJ, Ned, and the Fire Elemental aka Molten Man (who isn't really Molten Man) in a spiffy-looking way. Some people might not get into it but there's definitely some appeal in this image.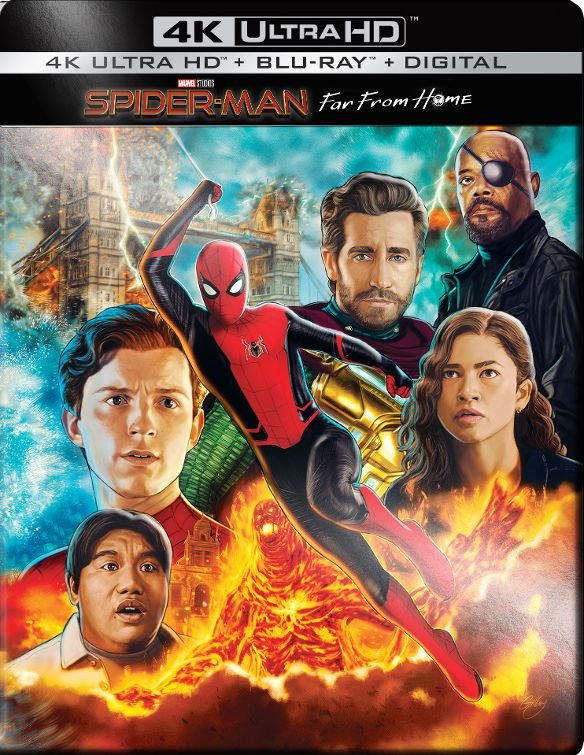 This Blu-ray will only be available from Best Buy, though there will be other versions of these physical packages in different stores. We'll have to wait for more details when it comes to the home release of Far From Home but that shouldn't take too long.
Spider-Man: Far From Home took place after Avengers: Endgame and managed to tell one hell of a Spider-Man story, while still acting as a solid epilogue. The post-credit sequence also changed Spider-Man's world in a huge way and we can't wait to see what's next, even if we have to go through The Eternals and Black Widow to do so.
Read: Chris Miller Talks Using MCU Approach for Upcoming Spider-Man TV Universe
What Others Are Reading