Amazing Spider-Man #29 Plants the Seeds to Undo One More Day
This week's Amazing Spider-Man #29 might be the proof that Marvel is finally going to undo the disastrous events of One More Day. While the company has referenced this storyline before, it never really led to anything, getting fans excited for nothing. However, Nick Spencer's run has made it clear that One More Day will not just be referenced; it's going to be integral to the plot and this week's issue more than proved that.
SPOILERS FOR AMAZING SPIDER-MAN #29
Nick Spencer and Franceso Manna's Amazing Spider-Man #29 ends with Peter holding an engagement ring, revealing that he has plans to propose to Mary Jane again. This is huge since Marvel has made it adamant that Peter Parker shouldn't be married, literally having these two characters make a deal with the devil (Mephisto) to ensure that their marriage "never happened."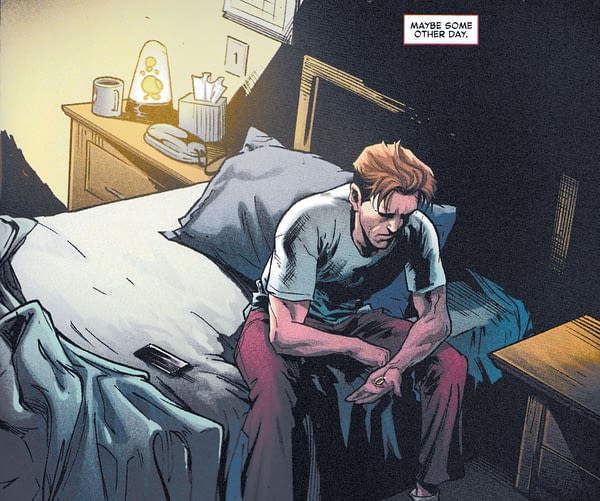 With Mary Jane off to Los Angeles to shoot a movie, not knowing that it was Mysterio who hired MJ in the first place, Peter has time to ponder on his decision. MJ will headline a new ongoing series in The Amazing Mary Jane while Peter deals with Absolute Carnage and the upcoming 2099 event.
As a fan of the character, this is very good news and we can only hope that Peter and MJ are finally free from this One More Day crap. The decision was made by then editor-in-chief Joe Quesada since he felt that Peter wouldn't be relatable if he were married, even though the publisher releases comics of married couples like Reed Richards and Sue Storm or Luke Cage and Jessica Jones. Amazing Spider-Man #29 is now available in comic book stores. Check it out.
Read: Tom Holland Says Mark Ruffalo Is The Bigger Spoiler Of Marvel Movies
What Others Are Reading